Patrick Walsh1
M, d. circa 1864
Citations
[S1583] Richard Griffith, Griffith's Valuation, In 1858, Patrick Walsh occupied the land that John Walsh would eventually inherit.
[S2883] John Murphy, 2021, Communication with John Murphy leads us to believe John "Jack" Walsh's father was Patrick Walsh. John Murphy's ancestor was Patrick Walsh who had a daughter Bridget Walsh who married Michael Cunney/Cunnie. The fact that my John Walsh names his oldest son Patrick also support this conclusion. Also, in the Kilmactigue/St. Attracta baptism records, many Cunnies are sponsors for Walsh children. Even a Michael Cunnie is a sponsor for Jack Walsh's daughter, Mary, baptized January 12, 1858.
[S1583] Richard Griffith, Griffith's Valuation, In the Griffith's Valuation Cancellation sheets for Knockahoney, Patrick Walsh is the occupier of the farm in 1863, but by 1866, John Walsh is the occupier. Patrick died between 1863 and 1866.
Patrick Walsh
M, b. before 21 April 1860
Birth*:

Patrick was born at Knockahoney, Kilmacteige Parish, County Sligo, Ireland, before 21 April 1860.1

Baptism:

He was baptized at Knockahoney, Sligo, Ireland, on 21 April 1860. Religion: Roman Catholic Baptismal sponsors were Austin Cawley and Anne Reid.1

(informant) Death:

He was an informant on the death certificate of Bridget

Cawley

on 18 December 1919 at Cashel, Aclare, Tubbercurry, County Sligo, Ireland; This is believed to be the death registration of Bridget, but not proven. She is the correct age, 80. She is a widow of a farmer, John Walsh. Her oldest son is named Patt and a Patt Walsh, son, was present at death. The discrepancy is she died in Cashel, not Knockahoney. I do not know where her son Patrick was living in 1919.
Someone has also determined this is the death record of Bridget Cawley on FamilySearch, however no other proof is given.2
Edward J. Walz1
M, b. circa 1924, d. November 2014
Birth*:

Edward J.

Walz

was born circa 1924.1

Marriage*:

He married Virginia

Nash

.1

Death*:

Edward J. Walz died in November 2014 at Orland Park, Cook County, Illinois, USA; Walz, Edward J. Age 90, of Orland Park, formerly of Matteson, IL. A veteran of WWII, he proudly served in the U.S. Army, and bravely fought during the Battle of the Bulge, earning the Bronze Star, and Purple Heart. Dear son of the late Joseph (late Anna, nee Haughey) Walz; beloved husband of Virginia (nee Nash) Walz; loving father of Margaret Walz, Maureen (Jack) Drumm, Edward (Dawn) Walz, and Joseph Walz; cherished grandfather of Emily and Brandon Walz, and Kevin Drumm; adored brother of Joanne Barsella. He worked for People's Gas, (now Nicor) from 1949 to 1988. His family was one of the original founding families of St. Lawrence O'Toole Church, and he was an avid golfer and bowler. Lying in state Monday, November 17, 2014 from 10:00 a.m. until time of Mass at 11:00 a.m. at the Franciscan Village / Mother Theresa Home, Chapel; 1270 Franciscan Dr., Lemont, IL 60439. Interment, Holy Sepulchre Cemetery. Info: 630-257-6363 orwww.markiewiczfh.com
Published by Chicago Sun-Times on Nov. 14, 2014.1


Burial*:

He was buried on 17 November 2014 at Holy Sepulchre Cemetery, Chicago, Cook County, Illinois, USA.1
James Walz1
M
Marriage*:

He married Anna

Haughey

.2

Name Variation:

As of 14 November 2014, James

Walz

was also known as Joseph.3
Robert Watson
M, b. 3 January 1904, d. 10 June 1952
Birth*:

Robert was born on 3 January 1904.

Marriage*:

He married Hazel M.

Nicholson

circa 1936.

Death*:

Robert died on 10 June 1952 at Chicago, Cook County, Illinois, USA, at age 48.
Watson - Robert Watson, beloved husband of Hazel, nee Nicholson; loving father of Robert E., and Lawrence W., brother of Hayes and Lawrence. Funeral Saturday, June 14, at 8:30 a.m. from funeral home, 3246 Jackson blvd., to Our Lady of Sorrows church. Interment Mount Carmel. Member of Brophy post, No. 195, American Legion. Kedzie 3-2304.
Chicago Tribune, June 12, 1952, page N11..1

Funeral:

He received the blessing of the church at the funeral on 14 June 1952 at Our Lady of Sorrows Church, Chicago, Cook County, Illinois, USA.1

Burial*:

His body was interred on 14 June 1952 at Hillside, Cook County, Illinois, USA, at Mount Carmel Cemetery. Gravesite: Section 38, Block 9, Lot 16..1
Citations
[S1313] Chicago Tribune, June 12, 1952, page N11, ProQuest Historical Newspapers, accessed February 11, 2011.
Robert Edward Watson
M, b. 14 June 1937, d. 23 January 2009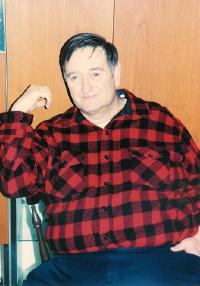 Robert E. Watson, 1993
Richard E. Wawrzyniak1
M, b. 26 January 1913, d. 9 February 1992
Birth*:

Richard E.

Wawrzyniak

was born on 26 January 1913.2

Marriage*:

He married Julia

Czaplak

before 1939. Marriage date based on date of oldest child's birth.3

Death*:

Richard E. Wawrzyniak died on 9 February 1992 at Chicago, Cook County, Illinois, USA, at age 79.2